Now That's Immigration!
Ballcap tip to
Blackfive
.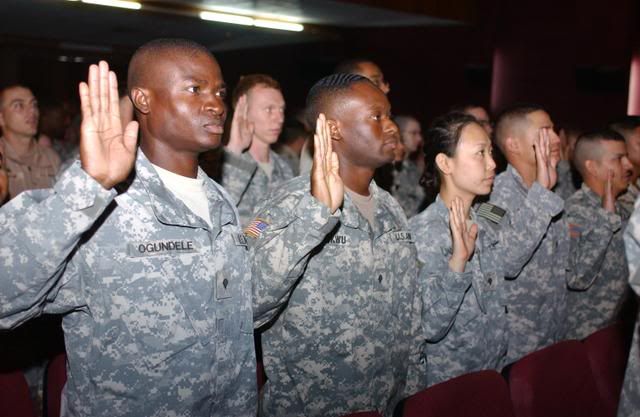 Iron Brigade Soldiers Become US Citizens
By PFC Paul J. Harris, 3rd Heavy Brigade Combat Team
BALAD, Iraq (May 12, 2006) -- 120 Soldiers became U.S. citizens in a naturalization ceremony May 12 in a theater on Logistical Support Area Anaconda near Balad, Iraq.
<...>
Five Soldiers from 3rd Heavy Brigade Combat Team, 4th Infantry Division, Task Force Band of Brothers received their citizenship during the ceremony. The newly naturalized citizens are Spc. Sola Ogundele, automated logistics specialist, Company A, 64th Brigade Support Battalion; Staff Sgt. Ricardo Silva, heavy wheeled vehicle operator, Company G, 64th BSB attached to Task Force Pacesetter; Cpl. Rey Pena, human resource specialist, Headquarters and Headquarters Battery, 3rd Battalion, 29th Field Artillery; Spc. Xiang Tran, logistical supply specialist, Headquarters and Headquarters Company, 3rd Special Troops Battalion; and Spc. Suhee Onder, cook, Forward Support Company, 1-8 Combined Arms Battalion.
For a civilian there is normally a five year residency requirement to be eligible to obtain citizenship. With military service members the requirement is waived along with the processing fee, said Walter Haith, immigration officer from the Frankfurt, Germany, office.
<...>
Ogundele came to the U.S. 13 months ago from Nigeria on a diversity visa. He immediately joined the Army after arriving in America. Ogundele has a bachelor's degree from Nigeria and joined the Army for the tuition money to earn his master's degree. He was not worried about going to Iraq so quickly after joining the Army. In fact he wanted to experience the combat he read about in books and saw on the news.
"I am the happiest man on Earth today to be a U.S. citizen," Ogundele said. "I know the sky is the limit for me in the United States. I (now) have absolute freedom to pursue my dreams."
For some Soldiers citizenship meant the chance to secure their future with the Army and for their families. Silva wanted to make a career of the Army and wanted to move up in rank. He was approaching eight years of service in his military career and the Army has a requirement to become a citizen after eight years to continue serving. Silva was born in Portugal but had lived most of his 25 years in the U.S. He felt after he had given the oath of allegiance to the U.S. a big weight had been lifted off his shoulders.
"It feels a little different now when you wear the American flag," Silva said.
Having the ceremony in Iraq instead of America was bittersweet for some of the Iron Brigade Soldiers. Pena and his family from the U.S. and Mexico wished they could have been together at the theater to witness him becoming a citizen.
"My wife wished she could have been there but it was good that I had my Army buddies there cheering me on," Pena said. "It is a big accomplishment, it feels great."
For Tran and Onder receiving their citizenship papers meant the end of long journey from immigrants to the beginning of a new one as citizens. The emotion of the ceremony got to Onder as the oaths had been rendered as she fought the tears of joy knowing she could now go forth as an American citizen...
Before the ceremony concluded President George W. Bush gave a taped message to the newly inducted citizens.
"Today the United States is not only your home it is your country," Bush said. "With a single oath all at once, you became as truly American as the most direct descendant of the founding fathers. You are now an important part of the great democracy … I am proud that you are citizens of our country. I am honored to be your President."
52 countries were represented by the 120 Soldiers who had endured a six-month application process. The process included an interview which the applicant had to demonstrate the ability to write and speak a sentence in English and pass a 100 question exam for the right to become a U.S. citizen.